Large-capacity home and commercial softening.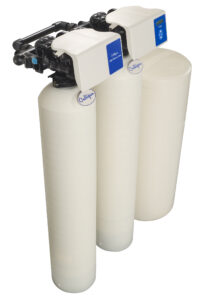 Condition water easily, and lots of it, with The Culligan HE Twin and Culligan HE Progressive Flow Water Softeners. Designed specifically to handle large households, homes with especially hard water, or small businesses, dual tanks on both models provide a dependable supply of softer, clearer water.
High Capacity – Alternating twin tanks cover all your water needs, no matter how big.
Easily Customizable – Dial-a-Softness® feature easily adjusts softening, so its always just right.
Responsive Design – Smart sensors respond to changes in water quality and adjust water treatment for the highest-quality softening.
Whatever your water problem, Culligan HE Twin softener ensures you get the soft water you need, when you need it. Your local Culligan Man can recommend the right water softener for you.
The Culligan HE Twin Water Softener:
Delivers a never-ending supply of soft, Culligan water.
Provides customized water softness settings so that your water never feels too soft or too hard.
Lets you know how long your salt will last.
Controls your softener from anywhere in the house.
Notifies your local Culligan Man automatically when the unit needs servicing so you never have to worry.
Great for large families and other heavy water users.
Perfect for homes with very hard water.
Makes appliances more efficient and last longer.
Saves salt, water, and money.
Culligan water systems are third-party certified to perform as promised and are backed by one of the most comprehensive warranties in the industry.